When the England team arrives at Al Bayt Stadium in just over two months for their game against the US, they will be met by a stunning 60,000-seat arena built to resemble a nomadic tent.
Arguably the best in Qatar, the stadium hosts matches from the opening game all the way to the semi-finals. If England win their group and come this far, they will play four games on the ground.
Just as impressive is the pristine park surrounding the stadium. Manicured lawns are dotted with fountains, streams and a lake. Ducks play in the cool water. A running track winds its way through the stadium, passing a number of immaculate training fields with grass as a putting green.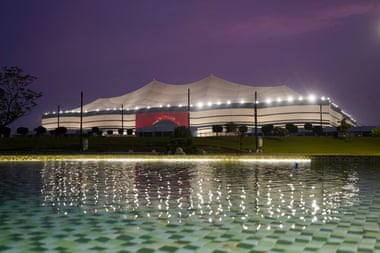 Yet the men who work day after day in the relentless heat and humidity to maintain this remarkable green space—watering the grounds, mowing the lawn and painstakingly weeding by hand—live in very different conditions.
At the end of each shift, they are driven for 40 minutes to the edge of the desert where they are dropped off at a farm owned by their employer, Al Sulaiteen Agricultural and Industrial Complex (SAIC). Inside, between rows of giant greenhouses, they return to their rooms in small dilapidated huts.
Some house three or four workers in single beds, others five or six in bunk beds, but all of those viewed by the Guardian were windowless, cramped and dirty. Towels draped between the top and bottom bunks allow for what little privacy there is. Water bottles, cooking utensils and personal belongings are crammed under the beds. Clothes hang from lines stretched across the walls. The camp is as filthy as this journalist has seen in nine years of reporting from Qatar.
FIFA and the World Cup's local body, the Supreme Committee for Delivery and Legacy (SC), have repeatedly claimed that the tournament has been the catalyst to change the living and working conditions of low-paid workers in Qatar and across the region. but the Guardian's findings expose serious flaws in the reform process.
Workers employed on projects related to the World Cup are believed to enjoy superior treatment in line with strict "employee welfare standards," but in interviews this summer with workers employed by SAIC at three World Cup stadiums – Al Bayt, Al Janoub and Ahmad Bin Ali – the Guardian heard allegations of multiple violations of these standards.
All the workers interviewed, from Bangladesh, Nepal and India, say they were forced to pay illegal fees to agents in their own country to secure their jobs.
"I paid 300,000 [Bangladeshi taka]", says one worker, the equivalent of almost £2,700, a huge sum in Bangladesh. "Some pay a little more, others a little less, but everyone pays."
The World Cup's local organizing committee introduced a scheme in 2017 to encourage its contractors to reimburse their employees' recruiting fees. The committee said SAIC is participating in the scheme and has paid back £29,000 to employees working on contracts awarded by SAIC. Yet SAIC employees interviewed by the Guardian who are not working under a contract for the World Cup committee say they have received nothing.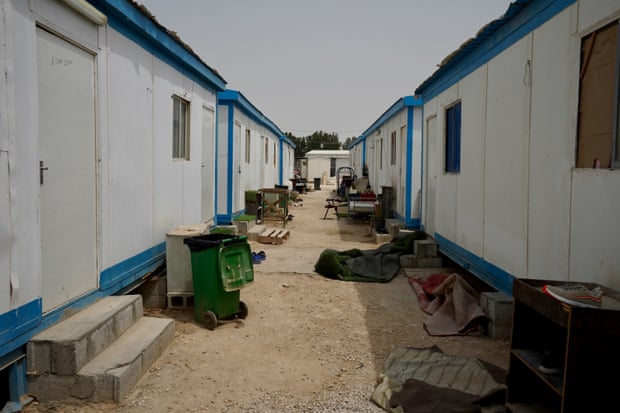 Most of the workers interviewed earn a basic wage of 1,000 riyals (£225) per month, the equivalent of about £1 per hour. Food and lodging are provided by SAIC. The wage is the legal minimum in Qatar, but workers say they struggle to repay their recruitment costs and associated debts, and send money from this salary to their families.
"The salary is very low, it is very difficult. I can earn this in India," says a worker who, after deducting his expenses in Qatar, is able to send about £160 each month to his wife and four children.
Faced with unrelenting criticism of the treatment of low-wage migrant workers, Qatar announced a new law in 2020 promising the abuse of kafala system – under which workers could not change jobs – but workers say SAIC is refusing to release them.
"The Company Doesn't Care" [permission to leave]. You can only change if you go home, cancel your visa and reapply," said one employee.
Another laughs at the suggestion, saying, "If we could change jobs, everyone would leave!"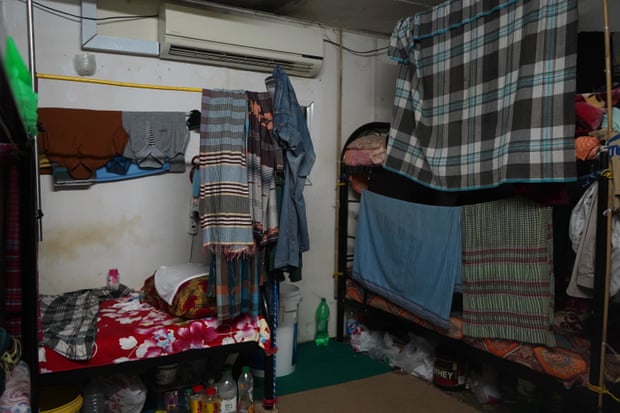 The World Cup Organizing Committee said: "We recognize that SAIC workers may still face challenges from their employers." It encouraged SAIC employees to use the hotline to voice their concerns.
During the hottest summer months, workers get up before dawn and head to the Al Bayt stadium, which cost £620 million to build. At seven the heat is unbearable, but Kabir* works on, watering the grass and trees.
He didn't know he would be working at a World Cup venue when he came to Qatar, but it doesn't seem to interest him. "I'm not excited about the World Cup," he says with a shrug. "I don't think we can go into the stadium."
The only thing that really worries him is his salary. His family depends on his meager income, but most of his wages go towards buying back the jewels he had pledged to a moneylender so that he could pay the £1,170 fee for his job.
"Qatar is a rich country, but they pay so little for the work we do," says Kabir. "You can forget about a good salary here."
The SC said it had "stayed true to its promise to use the World Cup to bring about lasting social change for our employees, to improve their working and living conditions".
It cited a range of measures taken to raise workers' working and living standards, including improved housing, measures to minimize workers' exposure to heat, legislation to introduce a minimum wage and enable workers to change jobs, and a monitoring system to ensure companies comply with the law.
"Individual cases of misconduct do not provide a complete and accurate picture of the changes that have taken place in Qatar, where thousands of companies have adapted their working practices to comply with the new laws and regulations," it added.
The English Football Association said: "Any questions regarding the stadiums to be used during Qatar 2022 should be directed to the tournament organizer Fifa." It pointed to a previous statement in which it said: "We believe there is evidence that Qatar is making significant progress on workers' rights. However, we realize that more needs to be done."
FIFA said it was in contact with the SC about the allegations made by SAIC employees. It added: "In addition to the extensive measures already in place aimed at supporting workers involved in the preparation and implementation of the World Cup, FIFA has actively pushed for the implementation of broader labor reforms applicable to all companies and projects across the country. and benefit all workers in Qatar."
SAIC did not respond to requests for comment.
* Name has been changed to protect his identity
Sign up for a different view with our Global Dispatch newsletter – an overview of our top stories from around the world, recommended reading and thoughts from our team on key development and human rights issues, delivered to your inbox every two weeks: