For the first time since their country was invaded in February, there is real optimism in Ukraine that the war with Russia will soon end, according to the contributors of the latest edition of the Sky News Ukraine War Diaries podcast.
This week, after months of stalemate, Ukrainian forces launched a surprising counter-offensive, which they say has resulted in significant territorial gains in the hotly contested Donbas region.
"Ukrainian troops have started the offensive operation in the northern part and in the east of the Kharkov region. What the Russians tried to occupy for a few months, we were able to take back [in] five to six days," says Ilyas, whose wife and two children are currently seeking refuge in Poland.
Click to subscribe to Ukraine War Diaries wherever you get your podcasts
"It feels that all the people here, around me, have this ray of light in their lives because you see the surgery going well," he continues.
"And people also get really motivated and inspired, and you feel that at some point everything goes back to normal.
"I know we will have an operational break at some point and it won't always be, but what we are seeing now is an absolute miracle."
He adds:
"We know that this war will only end with a victory over Ukraine."
Backed by military aid from the US and Europe, Ukrainian troops say they have recaptured more than 6,000 square kilometers in the east of the country.
It is a well-known region for military Seva. He is originally from Dnipro, but for the past five months he has been supplying supplies to frontline soldiers in the Donbas.
Speaking from Poland, as she returned from an assignment in Europe to pick up a custom SUV for the front line, Seva says last week was "pretty intense".
"We have the occupied Kharkiv region, it is a great success for us and we hope that everything will go in the same direction.
"It was really great when people came over and showed the big finger [thumbs up]and wished us victory, and wished us to occupy our territories and win Russia over.
"So many people were smiling when I passed in the car [SUV] and wave their hands. It was a really good, good, great feeling."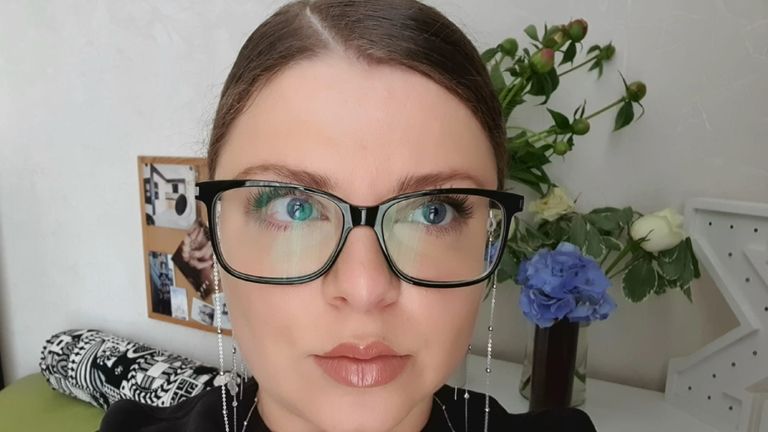 But despite this week's military success, Oksana, a resident of Kiev, found the news of alleged war crimes in recaptured areas disturbing.
"Seeing the people who have been under occupation for almost half a year and welcome our soldiers is" [both] just so heartbreaking and heartwarming."
She says it reminds her of Bucha. In the early days of the war, Sky News verified two videos showing bodies on the city's streets, including one with at least seven corpses on the sidewalk. Satellite images showed evidence of 45 feet of makeshift mass graves. Russia denied responsibility.
Oksana, however, sees the similarities.
"You know that when you read the horrors that happened during the occupation, it's like many little Buchas in the Kharkov region with torture chambers, with all the horrors that the Russian army brings to Ukraine."
From the creators of Sky News' award-winning StoryCast series, Ukraine War Diaries is a weekly podcast that follows those living on Europe's new frontlines and those who have escaped it.
Producer: Robert Mulhern
Digital Promotion and Complementary Writing: David Chipakupaku