Key events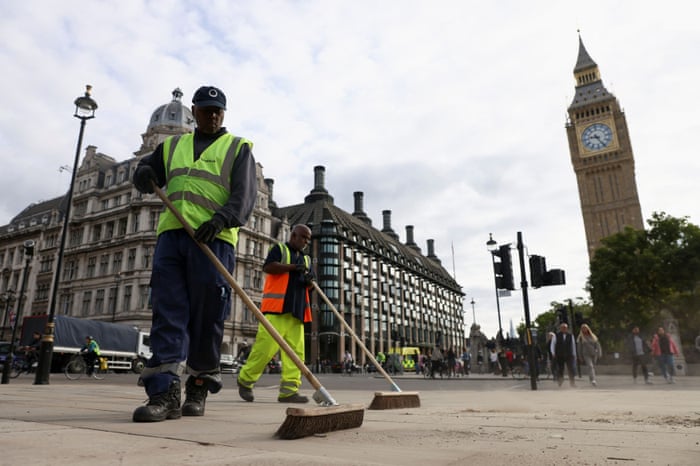 Ministers to review Channel 4 privatization and abolition of BBC license fee
Ministers review decisions to privatize Channel 4 and scrap BBC license fee, Michelle Donelan, the new culture secretary said. My colleague Jessica Elgot has the story here.
Truss says UK military aid to Ukraine in 2023 will match or exceed military aid offered this year
Liz Truss will address the UN General Assembly on Thursday. In another news story emerging from her trip overnight, No. 10 has said she will pledge British military aid to Ukraine by 2023 to match or exceed military aid offered this year. In the press release, Downing Street says:
The UK is already Ukraine's second largest military donor, pledging £2.3 billion by 2022. We have trained 27,000 members of the Ukrainian Armed Forces since 2015, and in the last year we have hundreds of missiles, five air defense systems, 120 armored vehicles and more than 200,000 pieces of non-lethal military equipment.

Last week was the largest commercial movement of ammunition by road since World War II, when tens of thousands of UK-donated artillery ammunition went to the front lines in Ukraine.

The precise nature of British military support in 2023 will be determined based on the needs of Ukraine's armed forces. However, it is expected to include equipment such as the multiple missile system, supplied to Ukraine by the UK and others, which has been instrumental in enabling Ukraine to recapture more than 3,000 square kilometers of territory in recent days.
Truss's admission talks on US trade deal have been suspended is 'terrible news for UK economy', Labor says
Good morning. as my colleague Pippa Crerar reports, it appears that Barack Obama was right after all. When it comes to a free trade deal with the US, Britain is really behind the pack after Brexit.
Liz Truss admitted she didn't expect talks on a free trade deal with the US to begin "short to medium term" as she spoke to reporters last night on her plane to New York, where she is attending the United Nations General Assembly. No one who has followed progress toward the once promised "huge" free trade agreement will be surprised by the substance of what Truss said; it's been clear since Joe Biden won the US presidential election that the deal is pretty much dead for now. But it is noteworthy that Truss was willing to admit this openly. Last year, on a similar trip to the US, Boris Johnson was evasive.
Answering the question candidly, Truss also buried a pledge in the Conservative party's 2019 manifesto, which read:
Our targets for UK trade are therefore ambitious. We aim to have 80 percent of UK trade under free trade agreements within the next three years, starting with the US, Australia, New Zealand and Japan.
The Truss commentary also marks the return of No. 10 as a news-generating machine. After the death of the Queen, all government affairs were put on hold and even the sources that give journalists non-attributable briefings were more or less shut down. But now there is political news again. We'll be hearing more from Truss later today, and this morning Michelle Donelan, the new culture secretary, did a full round of interviews. I will briefly summarize the main points.
Labor opposed Brexit in 2016, but under Keir Starmer it now presents itself as the party that would "make Brexit work", and now routinely attacks the Tories for not properly implementing Brexit. Nick Thomas-Symonds, the shadow secretary of international trade, says Truss' admission that the US free trade agreement will not take place is "terrible news" for the economy. He says:
Recognizing that there is no prospect of a trade deal with the US is terrible news for the UK economy – costing billions in lost potential trade opportunities and slowing growth.

There is no doubt that the blame for this mess lies with the Prime Minister, who has tarnished the UK's international reputation as Secretary of State for Foreign and International Trade. This is a disgrace to Liz Truss.

The Conservative manifesto promised a trade deal with the United States at the end of this year, but now it has no chance of success.

Only the fresh start that a Labor government can provide will restore these international relations and adopt a growth-oriented trade policy.
Parliament is not sitting today. Here's the calendar.
Lunch time (UK time): Liz Truss is expected to record interviews in New York, where she is visiting to attend the United Nations General Assembly.
Around 4pm (UK time): Truss meets with Emmanuel Macron, the French president.
Also, at some point today, Brandon Lewis, the new Attorney General, will meet with the Criminal Bar Association to discuss the lawyers' strike.
I'm trying to follow the comments below the line (BTL), but it's impossible to read them all. If you have a direct question, put "Andrew" in it somewhere and I'll be more likely to find it. I do try to answer questions, and if they are of general interest I will put the question and answer above the line (ATL), although I can't promise to do this for everyone.
If you want to get my attention quickly, it's probably better to use Twitter. I am at @AndrewSparrow.
You can also email me at andrew.sparrow@theguardian.com