"I never looked at myself or felt like I was 'just a hockey player'," writes the former Canadiens defender in a social media post.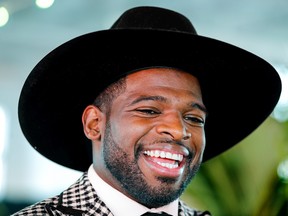 Article content
PK Subban hoped to continue playing hockey, but at the age of 33 and after 13 years in the NHL, he has decided to retire.
Article content
"I never looked at myself or felt like I was 'just a hockey player'," Subban wrote on social media Tuesday morning, announcing his retirement. "I always saw myself as someone who happened to play hockey. With that perspective, I was able to enjoy every shift as if it were my last, celebrate every goal with emotion and play every game as if someone was paying to watch me play who had never seen me play before."
Article content
Subban's last game was on April 29 with the New Jersey Devils and he finished the season with a total of 5-17-22 in 77 games and was minus-8 with an average ice time of 18:18. It was the last season of Subban's eight-year $72 million contract that he signed in 2014 when he played for the Canadiens, who selected him in the second round (43rd overall) of the 2007 NHL Draft.
Article content
Subban spent seven seasons with the Canadiens and won the Norris Trophy as the NHL's best defender for the 2012-13 season after posting 11-27-38 totals in 42 games, along with a plus-12 during a year in which the lockout was shortened. He finishes his career with 115-352-476 totals in 834 regular season games with the Canadiens, Nashville Predators and Devils.
Subban's agent, Don Meehan, told the Montreal Gazette in July that he was looking for a new team for his regular.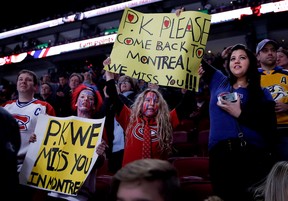 "I told him there are teams that are moving money — assessing what kind of cap space they have, analyzing their depth scenarios to determine exactly what they can do," Meehan said at the time. "Some of these issues are in play at the moment, so I can't get a definitive answer from some teams in terms of progress, but I've had expressions of interest in him so far. But the teams that have expressed interest can't get a contract now." because they have other things at play.
"He wants to play, I can tell you that," Meehan added. "But I think at this stage of his career he would like to play somewhere where he would get a good chance. Without sounding too aggressive, I think he's earned the privilege of being somewhat selective in terms of where he would go." "So it works for the team and it works for him. In other words, he doesn't want to play just anywhere. He has that level of independence."
Subban thanked his parents, Karl and Maria, in his retirement post on social media, as well as his fans.
Article content
"Thank you to all my fans who have supported me and continue to support me since the first day I stepped on the ice!" He wrote. "You lifted me up when I was down, supported me through hard times and stood me through everything!"
Subban has worked as a TV commentator for the NHL playoffs and it wouldn't be a surprise if he ended up in that field full-time.
"I look forward to the road ahead and the many exciting opportunities to come," he wrote. "I'm excited to share what those are with all of you when the time comes!"
Subban maintains ties to Montreal through his foundation, which has raised millions of dollars for the Montreal Children's Hospital.
Most recently, Subban offered to match donations to help young Ukrainian cancer patients in Montreal.
Article content
Chara is also retiring
Zdeno Chara also announced his retirement after 24 NHL seasons on Tuesday.
Chara signed a one-day contract with the Boston Bruins so that he could retire from the team he spent 14 seasons with and also captained. The 45-year-old defender played with the New York Islanders last season, posting 2-12-14 totals in 72 games.
Chara played 1,680 games in the regular season, hitting 209-471-680 totals with 2,085 penalty minutes.
scowan@postmedia.com
"When will it end?" PK Subban asks after black teen reports abuse at hockey tournament

Stu Cowan: Looking back on fun times with PK Subban and Canadiens