Collingwood took the first win over club arch rival Essendon in a contentious and physical wet-weather game at the AIA Centre. The Magpies took the points with an 11 point win.
It was a difficult arm struggle for most of the game, before back-to-back goals from 18-year-old Eliza gave James Collingwood a healthy lead, which Essendon's attack failed to break. Maddy Prespakis was the star of the game with 31 disposals, five clearances and a goal, but her side failed to break through the Magpie's impenetrable defenses.
After the match Fox Footy Border rider Megan Waters asked Collingwood scorer Chloe Molloy if there was anything better than singing the song in front of a home crowd, to which the Magpie star joked back: "Yeah, sing it when you beat Essendon".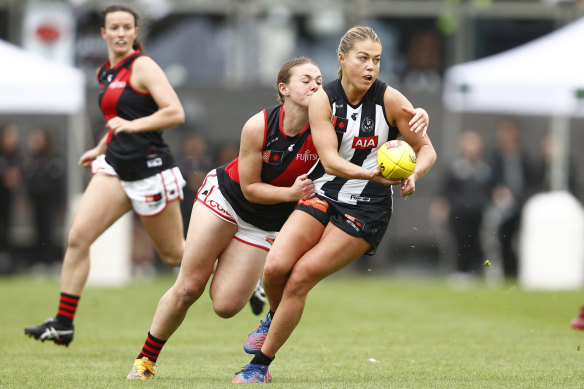 Hawthorn achieves first AFLW win
Hawthorn takes their first win in the AFLW over fellow expansion side Sydney, who still have no win. In front of a sold-out crowd at Punt Road Oval, the two sides battled hard in a heated competition with lots of pushing and pulling. Hawthorn, who played in their native guernseys, took the needed lead at the end, claiming a small four-point victory.
Sydney burst out of the gate with four goals in the first 12 minutes of the opening period, three of them from Brooke Lochland's boot, but they didn't get a full game.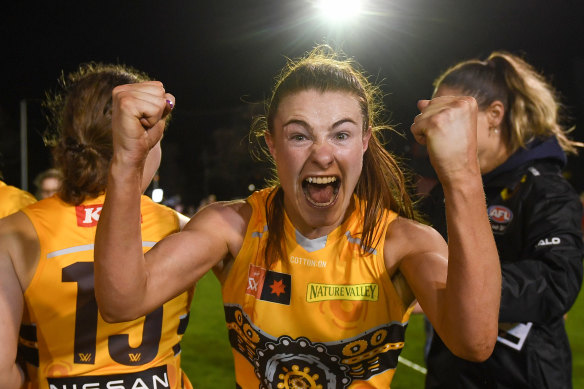 Hawthorn, on the other hand, responded with the next five majors, including three from young gun Tahlia Fellows. Lochland had another chance in the closing minutes of the game, which had secured victory for her side, but slid straight in front of goals with Hawthorn defender Emily Everist on her tail.
Hawthorn's Kaitlyn Ashmore told Fox Footy it was "two tough, inexperienced sides who wanted their first win…so a good match as you'd expect".
Earlier in the day, North Melbourne's win put them in the top eight midway through the home and away season as the Western Bulldogs' undefeated run draws to a close.
Tayla Harris shines
Melbourne's Tayla Harris scored three goals against her old team Carlton, earning her 50th career goal in the AFLW, while the Demons made short work of the injury-weakened Blues at Ikon Park.
Liv Purcell had 30 sales for the Demons in their 42-point win. Mimi Hill fought for the Blues with 33 possession.
AFLW ROUND FIVE
Western Bulldogs: 2.1 2.1 3.4 4.4 (28)
North Melbourne: 1.2 2.4 4.4 6.7 (43)
GOALS
Western Bulldogs: Wilcox 2, Moody, Cranston. North Melbourne: Eddey, Wall, Abbatangelo, E.King, Craven, Randall
BEST
Western Bulldogs: Blackburn, Wilcox, Bennetts, Lynch, Berry. North Melbourne: Garner, Bruton, Riddell, King, Kearney
Collingwood: 1.1 2.2 3.3 4.4 (28)
Essendon: 1.1 2.2 2.4 2.5 (17)
GOALS
Collingwood: James 2, Butler, Molloy. Essendon: Alexander, Prespakis
BEST
Collingwood: Brazill, Cann, Butler, Molloy, James. Essendon: Prespakis, Cain, Phillips, Toogood, Bannister
Sydney: 4.2 4.3 4.5 4.7 (31)
hawthorn: 1.0 3.2 5.3 5.5 (35)
GOALS
Sydney: Lochland 3, Privitelli. Hawthorn: Fellows 3, Gilroy, Baskaran
BEST
Sydney: Ham, Lochland, Hamilton, Whelan, Morphett. Hawthorn: Fellows, Fleming, Lucas-Rodd, Ashmore, Wales